Whether you're a job seeker, career transitioner or academically-curious, there are plenty of ways for you to explore career opportunities at ONA22 — both in person and virtually! Several sessions and events are focused on career growth, plus we've got events and tools for you to connect with organizations and programs looking for fresh faces.
Connect virtually
Upload your resume to our portal: Recruiters, grad school program managers and fellowship directors participating at ONA22 are reviewing resumes and reaching out to potential candidates with more information. See our full sponsor list to learn more about who'll receive your information. This resource is open to ALL members of the ONA community, including those not registered to attend, but only ONA22 official recruiters, education and fellowship leaders have access to the resumes.
Connect with recruiters via the ONA22 live event platform: More than two dozen organizations looking to fill roles have profiles on the ONA22 event platform — including several recruiters at ONA22 with virtual-only booths — where you'll find information on openings, as well as contacts for more information and setting up interviews or conversations. You can also see who else is attending by browsing the attendee list or searching by title, job level, names or interests. All attendee profiles will have chat bubbles on them to facilitate asynchronous connections. More details will be shared with all ONA22 registered attendees about the live event platform and how to connect .  
Visit the ONA Career Center: This is a free resource open year-round to anyone in the industry — ONA membership not required.  Browse the latest openings and upload your resume for review. Recruiters: Want to list a role? Contact jessica@journalists.org.
Visit the ONA22 online Job Board: Also on the ONA22 live event platform is a listing of opportunities offered by all 30 ONA22 recruiters, grad programs and fellowships.
Connect and learn in person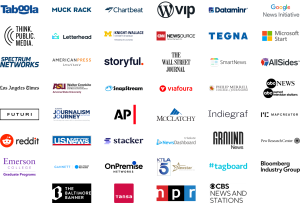 Visit the Hollywood Ballroom + Headshot Lounge in the Midway: (Thursday, Sept. 22: 11:00 a.m. – 5:00 p.m. PDT and Friday, Sept. 23: 9:30 a.m. – 4:00 p.m. PDT). The Hollywood Ballroom on the 3rd floor of the Westin is the career-focused section of the Midway! Be sure to stop by the Muck Rack's Headshot Lounge for a custom headshot in the foyer, and speak with the 18 organizations recruiting on site in LA.
Big Board of Jobs: Walk by the physical job board, located next to the ONA22 Registration Desk in the California Foyer on the second floor of the Westin. If you are interested in having your opportunity listed here, please contact Jessica Strelitz for pricing and details on submission. Deadline is Sept. 20.
Attend these learning Sessions 
Early-Career Tips From Our MJ Bear Fellows (Thursday, Sep 22 – 11:30 AM – 12:30 PM PT): 2022 MJ Bear Fellows will share tips on how early-career journalists can get buy-in on their ideas and make creative projects happen.
Inclusive and Equitable News Spaces are the Future: Four Methods To Get You Started Now (Thursday, Sep 22 – 11:30 AM – 12:30 PM PT): Join Reynolds Journalism Institute fellows as they share concrete techniques and step-by-step guides for how to build an equitable newsroom and retain journalists of color, while also exploring and presenting strategies for broadening and deepening community coverage.
Real Talk With the Women's Leadership Accelerator (Thursday, Sep 22 – 2:30 PM – 3:30 PM PT): Join a conversation with graduates of ONA's Women's Leadership Accelerator, a year-long, intensive program that supercharges the leadership and management skills of women pushing digital innovation.
How a Fellowship Can Build Capacity and Spur Innovation for Your Newsroom (Thursday, Sep 22 – 4 PM – 5:30 PM PT): With news organizations overstretched and resources scarce, a journalism fellowship can be a valuable partner in fulfilling your newsroom's ambitions.
Table Talks: Online Safety (Friday, Sep 23 – 11:30 AM – 12:30 PM PT): Join this participatory, discussion-based session, led by The International Women's Media Foundation and PEN America, to learn what strategies to include in your newsroom's plans and how to best support journalists experiencing abuse.
Table Talks: There's No "Pipeline Problem" (Friday, Sep 23 – 11:30 AM – 12:30 PM PT): Discussion of key hiring issues.
How To Hire and Team Build in a Post-Pandemic World (Friday, Sep 23 – 2:30 PM – 3:30 PM PT): Join this essential session to learn innovative approaches and develop an action plan around virtual culture building throughout the employee life cycle from candidate to staffer to alumni.
Building the Newsroom Management Framework of the Future, Right Now (Saturday, Sep 24 – 11:30 AM – 12:30 PM PT): Join this important session to learn how to design a management framework focused on empathy and flexibility that challenges traditional newsroom cultures and systems.
Visit These Networking sessions!