There's several ways that anyone attending ONA22 in person can get their heart rate up in LA!
All attendees are welcome to join the chair yoga class on Friday morning, Sept. 23. Join Dotdash Meredith for an energy-boosting wake-up with this class, led by professional instructors. Smoothies, juice and networking to follow. All experience levels are welcome, from beginners to more advanced! Learn exercise and meditation techniques you can take back to your newsroom or home office. RSVP required!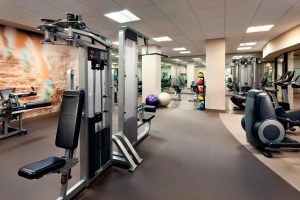 If you're staying at the host hotel, the Westin Bonaventure Hotel & Suites, you have access to their extensive fitness facility on the third floor and pool deck on the fourth floor. The pool is a great spot to get some fresh air and laps, and this area will also play host to a variety of receptions during ONA22, including the Welcome Reception on Thursday, hosted by the Knight Foundation,  the Collaborative Happy Hour on Wednesday, hosted by the Reynolds Journalism Institute, and Friday's Diversity Celebration, hosted by Think.Public.Media. & Southern California Public Radio.
Another way to up your step count without going outside: take a power stroll in the ONA22 Midway to learn more about new technology, career and education opportunities and newsroom tools. Visit the third floor center Jogging Track*, as well as the Hollywood Ballroom and adjacent foyer to explore the 50 sponsors, recruiters and exhibitors joining the conference in person.
Accessorize your athleticism! Check in at the Midway Help station on the 3rd floor, in the Hollywood Ballroom foyer to pick up your map, then make your way through the course to visit 5 exhibitors and sponsors in the Jogging Track and 5 in the Hollywood Ballroom, as well as our six sponsor lounges on the 2nd and 3rd floors — including the Refreshment and Hydration Lounge, hosted by Taboola, and Coffee Lounge, hosted by Alley —  to complete your trek.
Cross the finish line back at the Help Desk on the third floor anytime before 4 p.m. on Friday, Sept. 23 to pick-up your limited-edition ONA headband, thanks to PRConnect!
*It really is a jogging track! The iconic Westin Bonaventure was built in the mid-1970s by post-modern architect John Portman and has a little bit of everything. The balconies used to feature workout equipment!