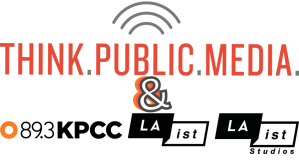 Think.Public.Media. & Southern California Public Radio are jointly sponsoring the ONA22 Diversity Celebration on Friday, Sept. 23.
Think.Public.Media. is a collaboration of more than three dozen public media organizations who are focused on diversifying staff at all levels by supporting minority journalism organizations and hiring journalists of color. The organization launched in 2016 and includes some of the biggest organizations in public media including NPR, APM, PRI and SCPR. We have hundreds of job openings across the country. To find out more, visit Think.Public.Media. and submit your resume.
Southern California Public Radio (SCPR) is a member-supported public media network that operates across the region. We also inform and interact with our communities through LAist.com, mobile, live events, and social media channels – on Twitter @LAist @KPCC; on Instagram @laistpics. We are one of the largest and most innovative NPR flagship stations in the United States, with a mission to explain L.A. We believe that you deserve great local news — and that we need your help to find those stories. We listen to what you're curious about, what keeps you up at night, and who you want held accountable. Our podcast unit, LAist Studios, exists to reflect the values of LA, and the incredible diversity of people who live them. We create world-class podcasts and on-demand audio news, information and storytelling that moves people emotionally and socially. Learn more about career opportunities.