By Jonathan Harley, Head of Global Strategic Partnerships, Canva
Journalists are not only expected to fulfill their reporting mission, but to also promote themselves and their work, while regularly engaging – and growing – their audience.
As Sam Koslowski, co-founder of Australia's fastest growing online news service, The Daily Aus, explains "Being a good journalist is now no longer just about being a good writer. It's about being a good writer, but also a good designer and a good publisher."
In other words, regardless of what medium a journalist shares their coverage, every journalist is now a visual journalist.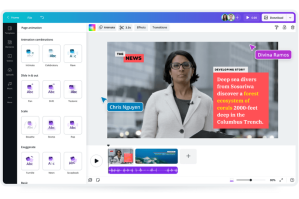 Newsrooms of all sizes and journalists across the world have been turning to Canva to scale the creation, management and delivery of visuals across multiple platforms. From small-to-medium sized outlets like the Detroit Free Press and The Tennessean to major players including USA Today, UK-based Global or the Australian Broadcast Corporation, Canva is powering the visual content creation and publication across social, video and e-newsletters, infographics, data storytelling, podcast imagery and more.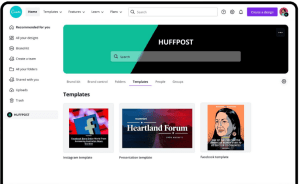 Canva doesn't just make it easier and quicker to create content — it's better for the audience and reinforces your trusted news brand. Having a consistent, recognizable visual identity backs up anything you publish with credibility and authority.
Media groups who have brought Canva into their newsroom workflows are reporting higher audience engagement and stronger audience growth. Regardless of the size of the news outlet or team you're working in — even if you're an independent freelancer — Canva helps streamline processes and workflows, meanwhile keeping all your assets on brand.
As the ONA22 Design Partner, we have been thrilled to help ONA with their visual workflows as the team prepares for the conference; working to develop ONA22 branding assets and templates, creating interactive maps of the hotel with Flourish (coming soon!) and making it easier for the entire ONA team to create all the pieces needed for bringing the conference to life — from the speaker toolkits, to promotional videos and signage.
We also had a blast designing the ONA22 conference t-shirt and were so pleased to commission Ukrainian designer and Canva Creator Ilona Repkina to create this bespoke design.
ONA's mission is to inspire and support innovation and excellence in digital journalism. We are proud to support their work, and are here to help the ONA community further its success. We look forward to meeting you!
Excited and want to get a head start? We're offering all attendees six-months free of Canva Pro with code ONA22XCANVA.
P.S. If you're going to be in Los Angeles, we're going to be on-site in a unique and fun way … and we're bringing TimTams.