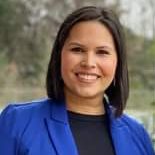 Mónica Pirela, CEO of NotiVisión Georgia, is Venezuelan-born journalist, wife and mother. A graduate of Universidad Rafael Belloso Chacín in social communications, Mónica arrived in Georgia in 2014. From there she made her first impact in the community as editor of the bilingual magazine Medientorno Middle Georgia for more than 5 years, covering events and local interest stories. With her experience and connection with Central Georgia's Latinos, she became aware of the dearth of information available in in Spanish.
This was especially evident in the midst of the political upheaval as a result of the 2015 and 2019 presidential elections as well as state elections and processes. To expand the magazine's impact to inform Central Georgia's Latinos, Mónica successfully transformed the publication to a digital format, eventually evolving into NotiVisión Georgia.
An accomplished and experienced journalism professional, Mónica serves as producer and reporter for the NotiVisiön in addition to her duties as CEO. Through alliances and agreements with faith leaders and local organizations, Mónica has been able to bring initiatives and programs of benefit to Central Georgia's Latino community, including food distributions, vaccination days and COVID-19 testing, among others, allowing her to connect even more with her community. Mónica has also served as a member of the organization De Mujer a Mujer, whose purpose is to motivate and empower Latina women.
In addition, she is also director and coordinator of Spanish radio news for Estrella Digital in Atlanta, Oasis 97.3FM in Augusta, and El Gallo 94.3FM for Middle Georgia.